Glamourtenor



The concept of a Glamourtenor is that you add panache to an event through a performer who is specialized in doing just that. Kees Taal sings at high profile events. His superb voice and contagious performance give cachet to every event in which he performs. A unique combination of the highest quality classical singing, and the ability to coop with modern techniques, with divergent scenarios and settings, an utterly unique approach for a classical singer. Specially designed costumes also contribute to a glamorous performance.

Red Carpet Event

The concept of the Red Carpet Event is a complete show with Kees Taal with guests, orchestra and dancers. A unique theatrical orchestration with a multimedia mix of classical and contemporary music. The seamless and exhilarating alternation of several sorts of high quality music, the splendid singing and energetic performance of Kees Taal and his guests, puts everyone on the edge of their seats. This multimedia melting pot of sound and vision are an immediate and guaranteed success with a wide and enthusiastic audience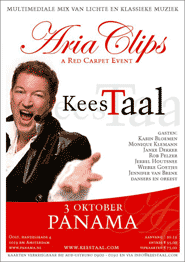 AriaClips

"AriaClips" give Kees Taal the chance to give full expression to the emotions contained in the operatic aria by means of a spectacular performance, with video images and unique theatrical orchestration. The aria represents compressed emotion, the singer's exclamation of love, for revenge, grief, hope and despair. The toreador of singing; the operatic tenor, expresses his feelings at the top of his lungs. Originally the aria was the monologue in a drama. At the end of the middle ages the Italians revived the ancient Greek drama in song form. Opera was meant as a visual spectacle. For this reason the operatic aria is also highly suitable for creating an atmosphere, in a film, a commercial, a fashion show or at a football match. Kees Taal uses these elements to shape his Aria Clips. The emotion of the arias of Puccini or Verdi comes to life in a unique theatrical orchestration. Each aria is as sculptured as an MTV clip. A duet with video, a dance with the audience, a theatrical orchestration in sound and vision, with which the listener also becomes witness and experiences a unique multimedia spectacle.