Interview with Roland Hazelhoff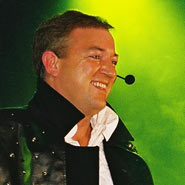 First some general questions, tell me Kees, what is your favorite place?
Besides of course my own little spot near the Dam Square in Amsterdam, I would say Brazil for nature, magnificent, and Moscow because I find it an exhilarating city, springing confidently into the future.
What is you favorite drink?
Fresh juices, delicious. If I am in Brazil of course a Caipirinha and in Moscow a fresh juice with vodka.
What is your favorite color?
I like colors a lot, many colors, all kinds of blue, copper-green of and cardinal-red.
What are your hobbies?
I enjoy water sports a lot; swimming, sailing and windsurfing. I would like to learn kite-surfing as well. And photography, I get unique opportunities to take remarkable photographs.
And singing?
I am in the fortunate position that I have been able to make my hobby my profession.

How old were you when you started singing?
My school was 100 meters away from the Amsterdam Concertgebouw. They were looking for boys for the boys-choir of the St. Matthew Passion by Bach. I was able to participate with 2 other boys from my class. We practiced every Saturday
A couple of weeks before the dress rehearsal the conductor came and checked that everyone knew their parts well and sang them in tune. If that was not the case, the poor boys who could not pass the test were told to go home. We sang with the ?Concertgebouw?orchestra in the ?Concertgebouw? in Amsterdam, in Naarden and Aardenburg. These were the most prestigious venues in the Netherlands, though I wasn?t aware of it at the time. For me it was simply next-door. One of my classmates became a musician, as well. He plays bassoon in the ?concertgebouw? orchestra. I think that was when we caught music fever.
Did you go straight to the academy after school?
No, After finishing the high school examination V.W.O. I first studied law at the University of Amsterdam. It was a very rewarding and interesting course. In my spare time I was singing in all kinds of choirs because I enjoyed singing a lot. I participated in all kinds of student-musicals, playing the tenor-roles. A number of people there convinced me that I really should do something serious with my voice. I had no idea that not everyone could sing along with Pavarotti in the same pitch and strength. For the notorious high c I never had to learn any special technique, except possibly greater control.
How then did you get to go to the music academy?
I was standing on the street in the in summertime when a music academy student passed by, singing on his bicycle. He didn?t finish the last phrase of his aria, so I finished it for him, singing a long sustained high note. He got off his bicycle and asked how I got that beautiful voice. He wanted me to audition for the music academy and suggested that he teach me for a while. So that?s what happened. Once I got into the academy it became clear that singing was my vocation.
Now you travel all around the world, do you still enjoy singing?
Of course, singing is great! Every time it is a challenge to try to enthrall the audience. It is marvelous if people react and share their enthusiasm with you.